New York City: If You Can Make It Here …
  By Nida Sophasarun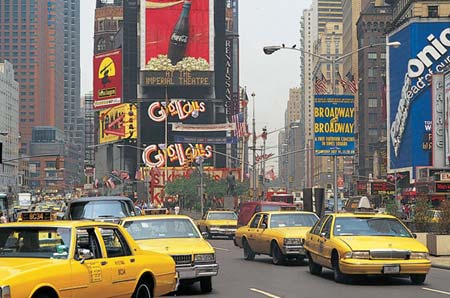 New York City
  Many people go to New York City ("the Big Apple") with the intention of making it big (1). While the talented and lucky few are successful, most are sidetracked (2) by the hustle and bustle (3) of the city, its bright lights, and that indelible (4) Yankee (5) attitude. International, diverse, cultural, and chock-full (6) of character, the city alone houses the Statue of Liberty, the Empire State building, Times Square, and skyscrapers galore (7)—all unabashed (8), unapologetic symbols of America.
  很多人带着赚大钱的想法到纽约,只有极少数有本事的幸运儿的确成功了,而大多数人则与成功无缘。伴随他们的是这座城市的忙碌与喧嚣,霓虹的闪烁以及根深蒂固的美国式的傲慢态度。在这座多元文化的国际化大都市中心坐落着自由女神像、帝国大厦、时代广场,摩天大楼粼次节比,成为美国理所当然的标志。
  There's never a shortage of things to do in New York City, and because of the grid layout of the streets, navigation is easy. If you love art, hail (9) a cab to "Museum Mile," located on the Upper East Side. The Metropolitan Museum ("the Met") has a permanent Egyptian exhibit, while the spiral exterior of the Guggenheim Museum, designed by architect Frank Lloyd Wright, hints at the trappings (10) of modern art inside. There's also the MoMA's (Modern Museum of Art) permanent collection, which includes paintings by Picasso, Monet, and Mondrian. The American Museum of Natural History displays dinosaur bones, and hands-on, interactive (11) exhibits.
  在纽约从来不会没事可做,这里街道纵横交错,交通十分便利,如果酷爱艺术,你就可以叫辆出租车把你带到东边的博物馆一条街,大都会博物馆常年展出埃及艺术品,而由建筑师弗兰克设计的螺旋型葛金汉博物馆则旨在现代艺术装饰品,还有现代艺术博物馆,藏有毕加索、莫内和孟德安等大家的作品。美国自然历史博物馆还展出恐龙化石等并进行展览交流。
  For Broadway musicals and off-Broadway plays, head for the Theater District. If music is your thing, the Carnegie Hall hosts a slew (12) of classical performers; the Blue Note in Greenwich Village accommodates the world's best jazz artists; and punk rock bands hole-up (13) in East Village dives (14). Shopping can literally be done everywhere in Manhattan, but for famous stores—Tiffany, Cartier, Saks, Bergdorf Goodman, Henri Bendel—go to Midtown. For some green space, cyclists and in-line skaters like Central Park, which covers 843 acres and 50 blocks up the middle of Manhattan.
  如果你要看百老汇音乐剧或其它戏剧,直接去戏剧区就行了。如果你喜欢音乐,卡内基音乐厅常举办古典音乐演出,格林威治村的蓝色地带住着世界上一流的爵士艺术家,而摇滚乐主要在东村地带出没。曼哈顿到处都可以购物,但埃弗尼、卡迪尔、萨可斯、巴哥多、古德曼、亨利本德尔等名店必须到市中心去。要想见点绿色,可以骑车或溜旱冰去位于曼哈顿中心的中央公园,这个公园坐落在50街区,占地843英亩。
  1 making it big phrase to be successful (make a lot of money, be famous, etc.)
  2 sidetracked verb to go off course, distracted
  3 hustle and bustle noun loud and energetic activity
  4 indelible adjective permanent, impossible to erase
  5 Yankee noun people who live in the northern states of America; (also the NYC baseball team)
  6 chock-full adjective as full as possible
  7 galore adjective in great numbers
  8 unabashed adjective not disguised, proud
  9 hail verb to call out in order to catch the attention of
  10 trappings noun characteristic signs
  11 interactive adjective involves people and computers working together, with information being passed in both directions
  12 slew noun large number
  13 hole-up verb to take refuge as if in a hideout
  14 dives noun small and dirty bars or nightclubs